The quirky fusion of culture, vintage and alternative lifestyles continue to be demonstrated in the eclectic village psyche of West End. From markets to boutique designers, organic producers and grocers nestled amongst cocktail spaces home and a dynamic live music scene, measurements of the carbon footprint are as eagerly guzzled as the farm fresh vegetables simultaneously served in juices and cocktails. Local beans are a culture, home to not just one but two roasters with Blackstar Coffee and Veneziano while neighbouring Rouge Coffee and Cup Roastery live around the corner. It's much like a reverse Bermuda triangle of the brew but one where local coffee eternally transpires rather than disappears to be never seen again. Essentially, what West End presents is a harmonious community balanced by the array of unique personalities exemplified in local business. This ethos is especially embodied in new coffee and food spot Morning After as an ideal refresh and refuel pitstop with a fresh uptake based upon traditional hospitality.

Perched within newly released The Glass Factory apartment complex on Vulture Street comes Morning After: so named for the morning after (the night before); a subtle reference to the capacity this space caters to, on the back of an evening of drinking followed by the subsequent morning – hangover included. Owned and operated by Soula and Yianni Passaris, the mother and son team strive for a welcoming atmosphere while presenting a varied menu from a fresh setting. Embracing Queensland's iconic alfresco lifestyle, local import architect Derlot's Alexander Lotersztain brings the outside in with a design concept of clean simple lines, natural light and polished concrete floors. Raw woods dominate, fused with a colour palette of white and green as hanging plants enhance the interiors while set to a chilled soundtrack mixed by local DJ Jordy Gee, a specialist in Greek tracks as well as house, RnB and Top 40. No doubt Jordy Gee will be making appearances from behind the wheels of steel when Morning After launch Sunday sessions with other interactive activities looking at cooking classes, nutritional workshops and pop up events. 

Modern day necessities and communal dining harmoniously blend for a nice equation, where the portable office meets collective eating. There's a special attention – almost borderline OCD – to coffee, sourcing local beans from Uncle Joe's Coffee House – infamous for their Purple Haze – as well as WA's Five Senses Coffee, with Victorian's Cartel Teas and house made elixirs amongst the wine, beer, cider and spirits menu. Their ethos of symmetry also carries across to the food for a rather beautiful marriage between Greece heritage and local knowledge. Lush treats vie equally with wholesome and healthy bites for a well-balanced spread of all-day breakfasts and lunches to alternatively feed hangovers or active appetites. Produce is locally sourced with the menu also crafted close to home. The nutritional advice of esteemed local dietician Lisa Peterson marks many of the dishes; her name followed by a throng of distinctions while associated with the Dietitian's' Association of Australia as well as Pure And Lean Nutrition Systems. Brisbane's The Unrefined dish up their trademark raw neighbourhood honey granola with Bee One Third onboard with urban rooftop hives and honey supplies. Other local treats are sourced from around Australia, such as haloumi from The Barossa and premium sustainable salmon from Huon Tasmania.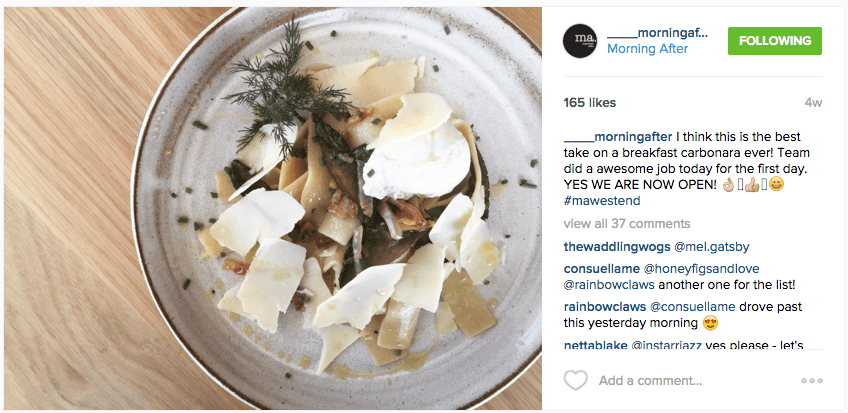 Already, Morning After's signature deconstructed breakfast carbonara with a 63 degree hen's egg is madly doing the rounds on social media feeds. Other options from the MaMuffin, sand crab omelette and buttermilk and ricotta hotcakes also contend with the necessarily obligatory smashed avocado and eggs benny. Dishes are augmented with delicate touches, such as cultured butter, rosewater jelly or feta and oregano chips. Indulgent dishes like the classic cheeseburger with smoked bacon and hand rolled ink linguine with prawns are compensated by fresh Huon salmon fillet, salt and pepper squid with Asian slaw or quinoa and pearl barley salad, root vegetables and goats curd to rule the lunch menu. There's something sublimely commensurable about Morning After, and it certainly fits to the Ancient Greek philosophy that unites ethos, logos and pathos as the ultimate art of persuasion. Certainly, everything about Morning After is persuasive – from the philosophy that forms the menu to the decor.

MORNING AFTER
57 Vulture Street (corner Cambridge Street), West End
07 3844 0500

Photographer: Florian Groehn