This post was published on our original page, My City Life, back on the 29th April 2014
We have always clung to the hope that good will overcome evil when it matters most; that humanity's internal struggle with their dark side will be conquered and when people join forces to defeat an evil empire, the effects will be weighty and epic. But the periodic struggle of good versus evil will always live on.
And on May 4, 5 and 6, the nerd world rises up to celebrate the greatest days in the galaxy: International Star Wars Day. May The Fourth, Fifth and Sixth Be With You. Affectionately celebrated the world over, these are the days to indulge your inner Anakin and Luke Skywalker, Leia Organa, Han Solo, Wookie, R2D2 or C3PO or any other sentient species.
A myriad of activities are happening around Brisbane with a bunch of suggestions to see your inner nerd rise with a lightsaber in hand. If only clones were real: I know I need one.
But first, one must look the part. Brisbane Costume Hire in Kelvin Grove and Disguises Costume Hire and Sales in Woolloongabba especially have the largest selection of the Star Wars empire outfits to paw through. Get your wookie on! Alternatively, head to Black Milk and grab anything sexily lycra
While it is forbidden for Jedi's to form attachments (because attachments are dangerous), there's still an expanded universe to consider where the greatest ritual of coupling is celebrated.
The ultimate Pop Up Star Wars Wedding will be presided over by celebrant Joshua Withers where a New Hope comes for followers walking down the aisle. While registration has closed, the day is going to have far more infinite possibilities than the galaxy itself. This will be a world-first event held at the Cantina Lounge of Lightspace (*sic) in Fortitude Valley.
Starlight Day shines on Friday May 2. Take the opportunity to donate to a good cause – and brandish your lightsaber whilst at it. Some geekups meetups like to strut about Brisbane in Queen Street Mall or King George Square in full regalia, making a substantial donation for the honour of being all dressed up for a cause. And since you're strutting, strut to this:
On the silver screen, Event Cinemas in Chermside, Indooroopilly and Mt Gravatt are showing the original movies with Episodes 1 – 3 on Saturday and Episodes 4 – 6 (the best of them all) on Sunday. There will be plenty of time to energise in between, as all movies are featuring 3.30, 6.30 and 9.30. Lightsabers will be handed out as prizes to the best dressed.
If you don't own the Complete Saga for the small screen, but have PS4, The Clone Wars are showing on Netflix. If you ain't a lucky Tarc, Game of Thrones on Foxtel and Big Bang Theory on TV will have to help you through the saga of being Star Wars-less.
The greatest nerd-friendly place to hang out in any sort of cosplay attire would undoubtedly be Fortitude Valley's Mana Bar. Lose yourself amongst the XBox, Arcade and Playstation gaming consoles, Jack Daniels Slushies and Mana Potions to feel right at home.
PLACES TO INDULGE YOUR INNER STAR WARS
Nerd it up across The City. Sir Thomas Brisbane Planetarium at Mt Coot-tha Gardens features the hottest stars in the universe on Saturday 11 – 8.15, Sunday 11 – 4, and Tuesday 10 – 4.  Geek it out at The Queensland Museum Sciencentre in South Bank 9.30 – 5 daily. Or indulge in all things lego, by dropping into the Lego Educational Centre, South Brisbane from 10.30 – 1. Finally, you can head to The Valley to Guf Brisbane Internet Gaming Cafe for your cyber gaming fix.
Eat well and be Mon Calamari.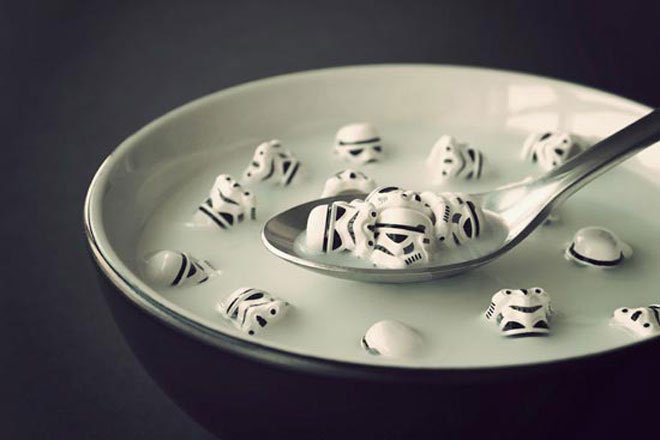 DINNER: Go high tech in China Town and order Japanese from the screen at Wagaya Brisbane in Fortitude Valley. The place gets busy though, so book ahead. Alternatively, head down the Mall to Cyber City, the ultimate Chinese restaurant that also has beer, karaoke, video games and pool, until late in the night.
DESSERT: M&Ms celebrate May The Fourth with special M&M chocolates – keeping balance in The Force by offering options or The Dark Side and Star Wars. Take your pick from M&M Blends, Character Candy dispensers, Glass bowls and party favours. Because you always win with chocolate.
Secondhand bookstores and comic book stores are ideal for top reads. Hard invertebrates can hit Archives Fine Books in The City, Winn Lane's Atavist Books in Fortitude Valley, Bent Books in West End or Novel Lines in Paddington. May 3 is Free Comic Book Day (read as Day of Major Discounts) with Ace Comics on Queen Street, Comics Etc and Daily Planet on Elizabeth Street.
For the Gadget Gungans, JB HiFi in The City and Jaycar Electronics at Woolloongabba will indulge all technological savants. Incidentally, the Complete Saga is available on Blu-ray at any JB HiFi Store – though make first contact though. Technological thrill-seekers can indulge at the mecca of gizmos, The Apple Store in The City. Online shoppers can jump onto ThinkGeek to spoil the inner geek with R2D2 USB Car chargers, Star Wars Family Decals, Star Wars Cookbook and Removable Blade Lightsabers.
Star Wars is nothing without the games. EB Games have pre loved editions of Lego Star Wars The Complete Saga, The Force Unleashed, Kinect Star Wars and PS4 Star Wars Battlefront Wacky Wobblers ready for claim. There are also a variety of the latest bathrobes or even a Wampa Plush Gamer Hat to enhance the playing pleasure.
Revisit the best Star War games in the universe ever, and unearth your PC's Xwing Alliance. Nintendo seems to be the nerve centre of all things Star Wars, with Nintendo Lego: The Clone Wars, Super Nintendo Star Wars, Nintendo 64 Star Wars Episode 1 Racer, Nintendo Gamecube Rogue Leader and Rogue Squadron Rebel Strike. Or jump into the 21st Century and play Star Wars Tiny Death Star on your smartphone. 
And Mauri Ora!