Waking up in the morning, there's only one thing we think of: breakfast. No, we're not talking about a slab of butter and some vegemite on toast, or a simple fried egg (because that's the only kind we know how to cook). We are talking about a deluxe brekkie – one that you've literally dreamed of the night before. When it comes to dining out on Brisbane's south-side, we like to consider ourselves experts on the subject.

We've managed to work our way through the menus at some of Brisbanites favourite cafes. Sometimes it's a little hard to decide what you want from the menu too. Your stomach's crying out for pancakes, but your heads shouting avocado on toast. With the aim of making the decision a little easier for you, we've put together a list of our favourite south-side cafes and their must-have dishes (you can thank us later). Enjoy!

The Rare Pear, Holland Park
Recommendation: Sweet Potato & Haloumi Fritters
Co-incidentally, less than 10m from Deedot Café, The Rare Pear has an ever-evolving menu of Mediterranean wholesomeness. As a regular Rare-Pearer, there has not been an item on the menu which we have not thoroughly enjoyed. Each dish is thoughtfully put together much like the Sweet Potato & Haloumi Fritters with poached eggs, beetroot tzatziki, asparagus, herb crème fraiche & cherry tomatoes. Oh, and you HAVE TO try their Mocha's. It's one cup of frothy, chocolatey, coffee goodness.
Deedot Café, Holland Park
Recommendation: Stacks On
As your eyes scroll over the menu at Deedot, it's hard to look past the Deedot Breakfast; toasted Turkish bread, smashed avocado, smokehouse bacon, poached eggs, halloumi and cherry tomatoes with balsamic glaze. No, that's not drool running from my mouth. It's also a bonus that the coffee there is simply delectable. If you'd prefer to pair your meal with a cold refreshment, they have an epic (and delicious) range of juices and frappes.

The Rabbit Hole Cafe, Seven Hills
Recommendation: Eggs Benedict with Pulled Pork
Nestled on a corner of a roundabout in Seven Hills, The Rabbit Hole Café is a cosy local secret full of vibrant cushion and funky wallpaper. Open for breakfast Sun – Tues and breakfast to dinner Wed – Sat, you are guaranteed to find something you'll love on their HUGE menu. Give the Eggs Benedict with Pulled Pork a go for breakfast or try a selection of the tasty tacos for lunch and dinner. Did someone say Taco Tuesday!?
Little Clive, Annerley
Recommendation: Bacon Pancakes
If there's one café in Brisbane who does the BEST pancakes or waffles it's Little Clive. They are known for their ever-changing waffle on the month flavours which seemingly ends up being even better than the last. A regular on the menu, their Bacon Pancakes not only combines crispy bacon and pancakes, but also caramel popcorn, bourbon butter and it's topped with FAIRY FLOSS. Yes, you heard that right! Open 7 days a week, you've got no excuse to not pop into Little Clive café.

Seven VII South, Yeronga
Recommendation: Breakfast Tower Burger
Don't even think about picking up your knife and fork for this one. This is one dish where it's completely acceptable to use your hands. Stacking a fried egg, hash cake, bacon, American cheddar, tomato jam and baby rocket between a brioche, Seven VII South knows how to do a breakfast burger right. It's a pet-friendly café, so feel free to bring your fur-babies with you. Or your real babies too… it's also child-friendly.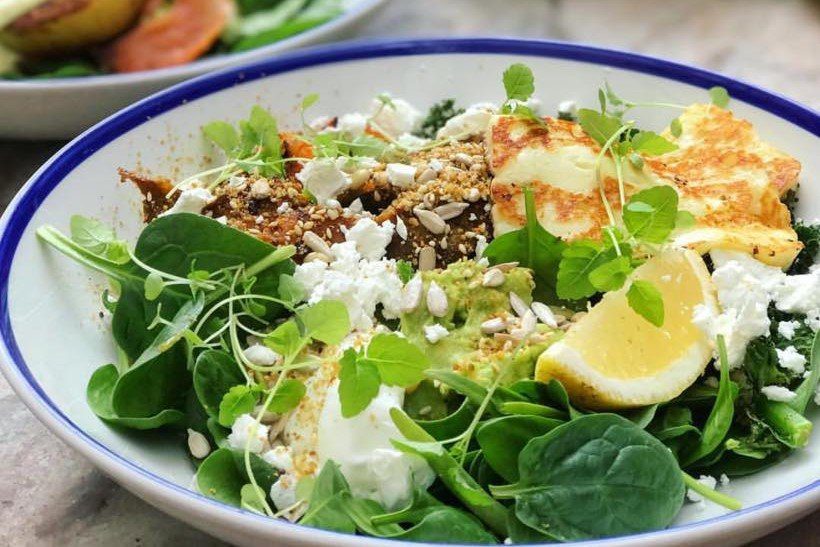 Hallowed Grounds Espresso, Holland Park
Recommendation: Breaky Bowl
Taking a step into another word, this vintage-inspired café serves up an extensive flavoursome menu with a side of Elixir coffee (your way). Extending their vibrant décor into the menu, every meal comes out full of colour with a decadent twist on your average dish. The Breaky Bowl is a nourishing bowl full of roast pumpkin, kale, halloumi, avocado, grilled tomato, crumbled feta, softly poached egg topped with dukkah, served on a bed of spinach.
That Little Place Café, Mount Gravatt East
Recommendation: Toasted Bagel
Serving up Merlo coffee from their super cute café on Carrara Street, That Little Place is our go-to place for bagels. If you're sticking to the menu, we recommend going for the Toasted bagel with grilled halloumi, basil pesto, semi-dried tomatoes, avocado, red onion and rocket. If you feel like going off menu, we think a bagel with avocado, fetta and bacon is a killer combination. The spot is also known to be a hot-stop for lots of super cute dogs. Don't believe us? Just check out their Instagram.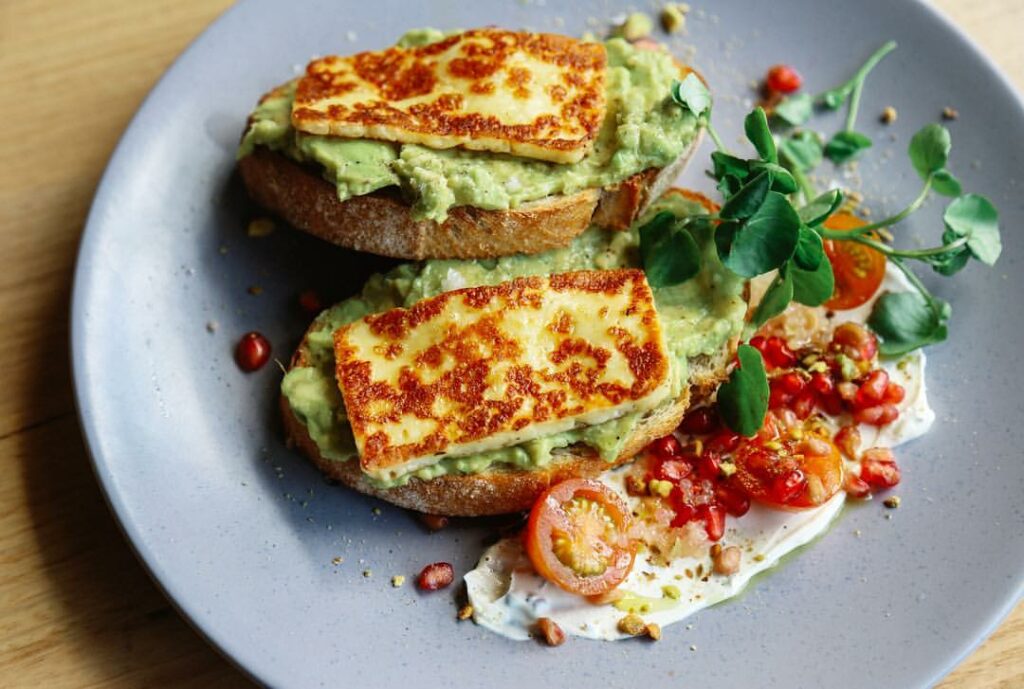 The Priory Kitchen, Woolloongabba
Recommendation: Avocado Toast
This is a place where the avocado on toast is worth not buying a house for. Smashing avocado on sourdough toast, The Priory Kitchen tops it with roasted cherry tomatoes, grilled haloumi, pomegranate, tahini labne, lime, sesame and almond dukkha. As one of the newer café's in Woolloongabba, taking up space just opposite The Gabba in Trafalgar Lane, this kitchen is the perfect spot for a casual breakfast while enjoying their use of seasonal and free-range produce.

The Jam Pantry, Greenslopes
Recommendation: The Whole Pantry
If you're looking for a curious and quirky brunch experience, then this place is ideal for you. Taking seasonal dishes to a whole new level, The Jam Pantry have 12 blackboards installed in the café that are continually 'flipped' each month to highlight chosen ingredients. They also invite the community to be a part of their seasonal romance by bringing them the excess of their harvest in return of jars off their shelves.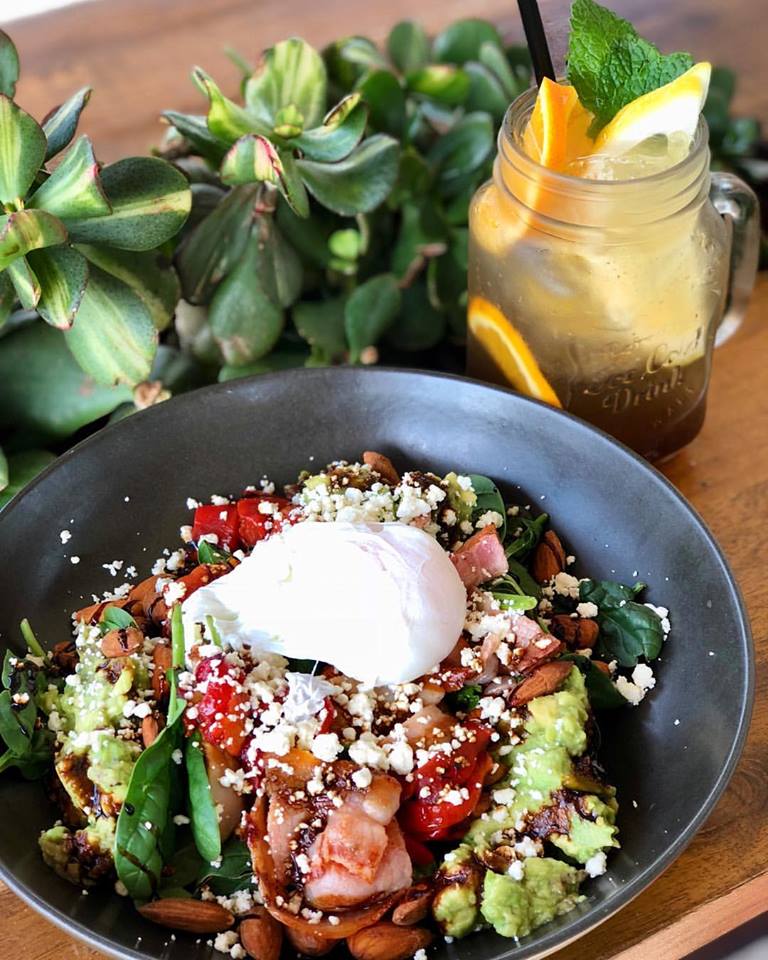 Little Sista Café, Cooparoo
Recommendation: Breakfast Salad
People say you can't make friends with salad, boy are they wrong! The Breakfast Salad from Little Sista is a winning amalgamation of spinach, maple bacon, avocado, roast capsicum, lemon almonds, feta and a poached egg finished with a balsamic glaze. Perfectly light and filling at the same time, the Breakfast Salad is the ultimate summer breakfast dish. Pair it with a fresh juice and you've got yourself a simply delectable meal.

Café O Mai, Annerley
Recommendation: Vietnamese Omelette
Let me hit you with a fun fact before we continue… O-mai translates as 'dried apricot' or 'teenager' in Vietnamese. How cool is that!? This quirky and intimate Vietnamese café features a menu reflecting the owner's Vietnamese heritage with some west influence in their breakfast menu. It's not fusion, so don't get it confused! An O-mai keeper is their Vietnamese Omelette combining prawns and pork mine, sprouts and mushroom served with toast for jasmine rice and hose made soy sauce. It also comes in a vegetarian and GF option too!